SUMMER CAMP JOBS: WHY WORK AT A CAMP?
Does this describe you or someone you know?
You love the outdoors. You love sports and swimming and arts and crafts. And – your good friend says you're great with kids.
If you relate to this, then there's the perfect place waiting for you: summer camp. Over half a million college students will find their way from their campus to camp this summer to fill openings at camps across the United States.
IMAGINE A JOB WHERE ALMOST ANYTHING IS POSSIBLE:
Live, play, and work in the great outdoors.
Go on active adventures.
Experience people from all different backgrounds.
Make new friends from all over Long Island
Bank more money than you think – with few expenses.
Become a child's hero.
Learn leadership skills.
Camp jobs offer invaluable skill-building, leadership, training, and enrichment opportunities that can't be found anywhere else! Regardless of your college major, camp experiences allow you to learn and develop skills that will enhance your job marketability. The benefits go far beyond a paycheck, too. Business executives often note that experience as a camp counselor translates into excellent management and personnel skills. College credit can sometimes be obtained from working at camp. Check with your college advisor to see if you qualify.
DEDICATED TO THE HIGHEST EDUCATIONAL, RECREATIONAL AND PHYSICAL STANDARDS FOR ALL CHILDREN.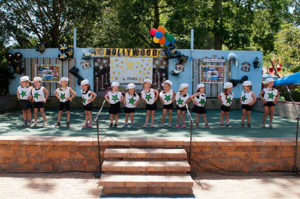 The seal of the Long Island Camps and Private Schools Association inspires confidence… the confidence that you have chosen from among the best summer day camps and day schools in Nassau and Suffolk County for your child. For staff it means you will be working as a counselor, group leader, lifeguard, swim instructor, teacher or specialist at a facility with the highest of standards.
LICAPS (The Long Island Camps and Private School Association) is a professional association of summer day camps, private schools and camp directors who are dedicated to the highest quality summer camp experience. Our 22 member camps and private schools have a long and rich history of providing children a summer experience that is not only fun but that also teaches valuable life and social skills for a successful future. Most of our camps have been serving youth on Long Island for over 50 years. Many Campers, Families and Staff return summer after summer and generation after generation making our camps a place of tradition and a summer home for our campers and staff to return to every year.